Our
Goal
To empower and support women to be strong, active and prepared for pregnancy, postpartum and beyond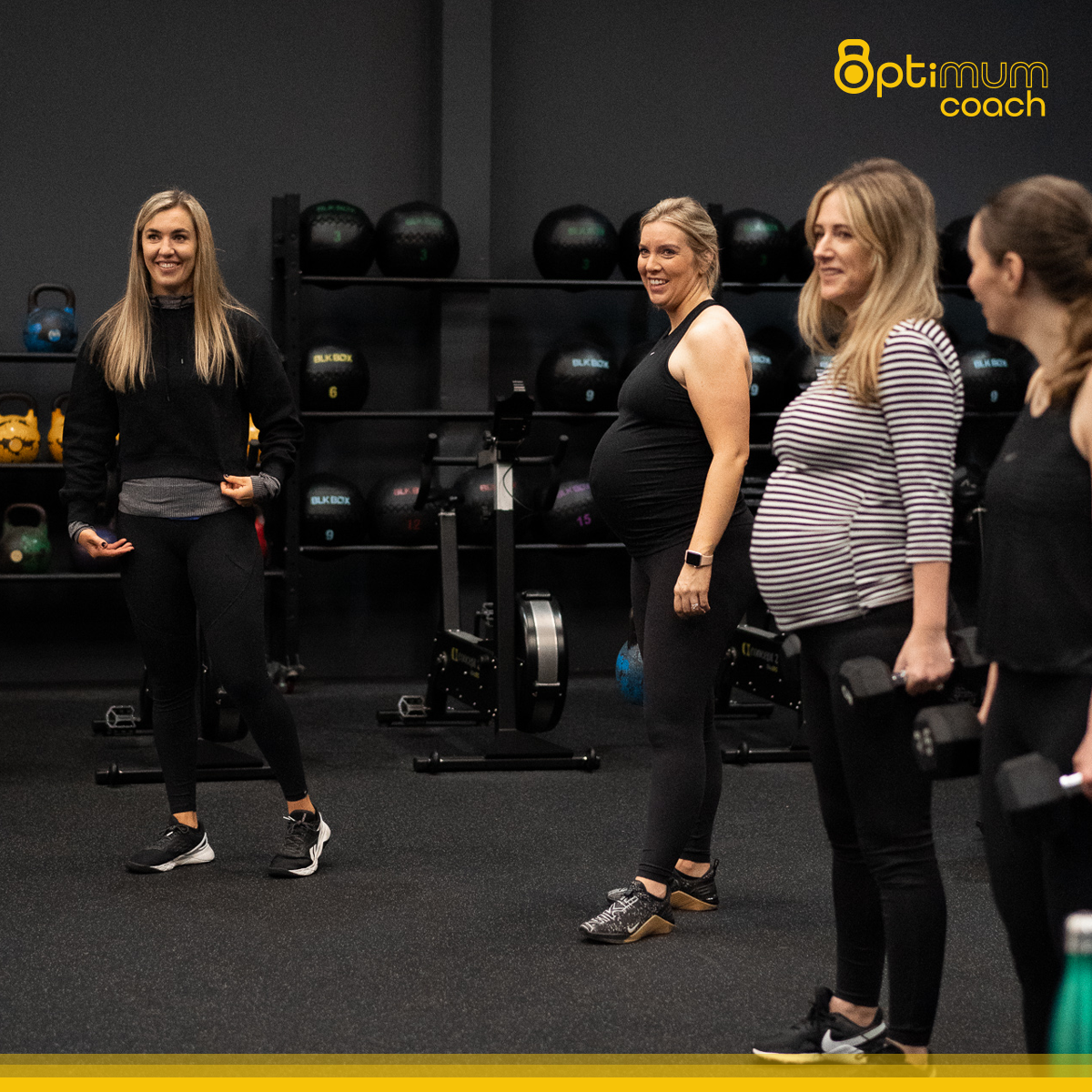 The Optimum Coach was founded to provide support and guidance to women about exercise and staying active throughout their pregnancy and motherhood. The physical, mental and emotional changes that any new or expectant mother experiences is nothing short of life-changing with each pregnancy being very unique. There are many benefits to exercising and staying active during pregnancy and postpartum such as
improving sleep

alleviating pain

relieving stress

increasing energy

an overall feeling of strength and empowerment.

 
Information about exercise during pregnancy and postpartum can sometimes be both,  conflicting and confusing. It can be difficult to know what movements to do or what should be avoided during this period. Optimum can take care of this, ensuring that all workouts are effective and safe, at all fitness levels. 
Optimum is here to guide and support you with exercise and overall wellbeing through each trimester, during the postpartum period and beyond. Workouts are designed with you and your body in mind. Once your baby is here, Optimum will support you to be able to return to the activities or sport you love.
Whether you are a beginner, an experienced exerciser or somewhere in between, Optimum can help you through your pregnancy and postpartum exercise journey. You will become fitter, stronger and empowered to reach your goals, and have the healthiest pregnancy possible for both you and your baby. 
Clare has always had a huge interest in health and fitness, growing up playing team sports and later starting CrossFit. She is very passionate about the benefits of staying active and exercising for general physical and mental health, particularly during pregnancy and motherhood. 
Clare graduated in 2016 with a PhD from Queen's University Belfast, where her research focused on early identification of pregnancy complications and understanding why they occurred - with a particular focus on preeclampsia. Since then, she has worked both in the UK and America, continuing to discover ways to improve pregnancy outcomes for both the mother and the baby. 
Through her research and personal interest in the importance of exercise during pregnancy, it became evident that exercise guidance for mothers through this stage of their life can be difficult to find and is often not straightforward. With an eagerness to help, Clare became a fully qualified Pre and Post Natal Exercise Specialist. In 2021, Clare got her Level 3 Diploma In Fitness Instructing and Personal Training (APEC courses), and became a certified Pre and Post Natal Coach (Girls Gone Strong). Clare continues her education to bring the most up to date, evidence-based information for training the body and mind of her Pre and Post Natal clients. 
Clare loves helping women feel empowered and confident to exercise safely during pregnancy, postpartum and beyond, focusing on feeling strong and healthy, inside and outside of the gym - preparing for the demands of motherhood. She also encourages her clients to understand the changes their bodies are going through and helps them feel resilient in their daily life. Learning how to keep fit and healthy as a new mum can sometimes be intimidating. Optimum is here to guide and support you every step of your journey.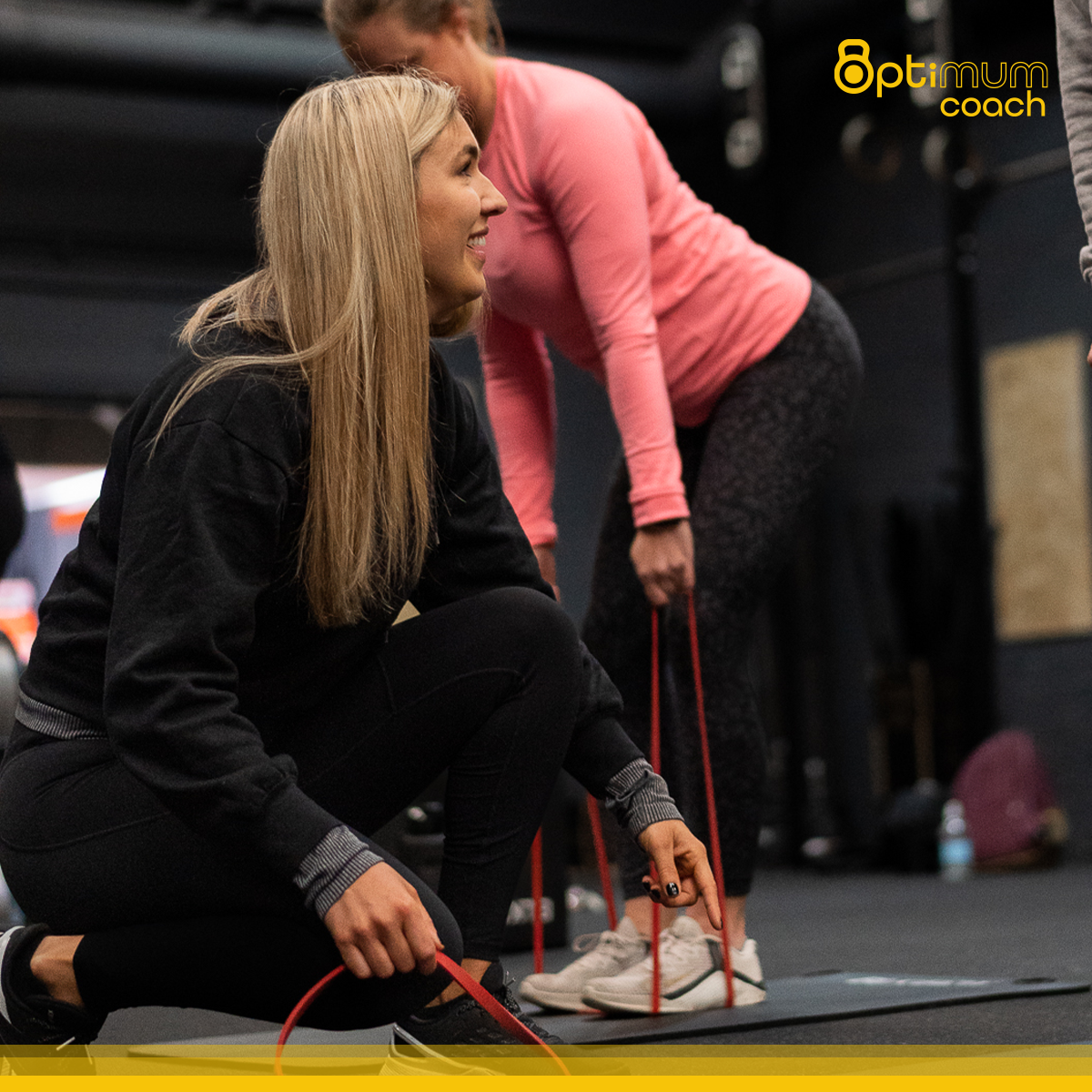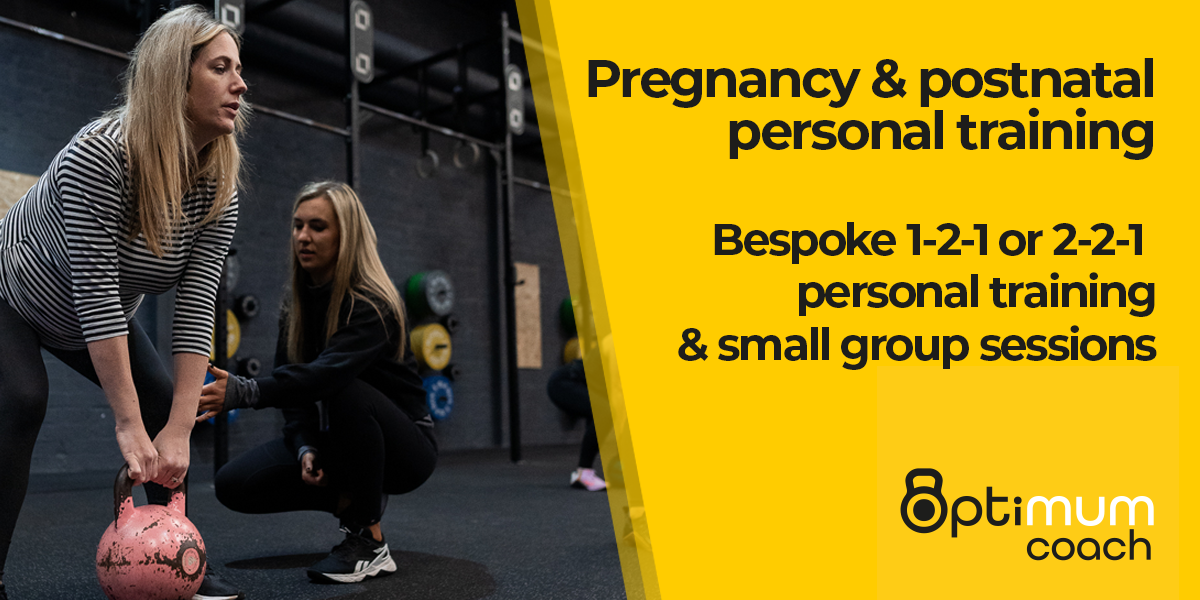 Whether you're a beginner, seasoned pro, or somewhere in between, we are here to help you.
Our pregnancy and postnatal personal training sessions help you stay, or become more, active during pregnancy or as a new mum.
What does

PREGNANCY

 training involve?
Our sessions are tailored to you. Each client's needs will be assessed based on pregnancy trimester, fitness level, experience, and your personal goals. 
Overall, we work on:
Safe lifting technique and resistance training for pregnancy
Functional fitness exercises and endurance work tailored to each stage of pregnancy
Pelvic floor work
Optimising core strength (yes, even during pregnancy we can work on our core!)
Breathing techniques - great for during pregnancy but also ready for postpartum
Our focus during this time is to help you have a smooth, energy-filled pregnancy. The benefits of exercising during pregnancy are endless, such as improving sleep, alleviating pain, relieving stress, increasing energy, improving stamina, a feeling of strength and empowerment, along with increasing your chances of a speedier postpartum recovery. And that's not to mention the benefits your baby will be receiving as well. We want to help you best prepare for the demands of pregnancy, labour and motherhood. 
What does

POSTPARTUM

 training involve?
The postpartum sessions are also tailored specifically to you. We take into consideration how long ago your baby was born, whether there were any issues or complications, what your current (and pre-pregnancy/pregnancy) fitness levels are and your individual needs and goals. 
Overall, we work on:
Safe lifting technique and gradual re-introduction of resistance training
Building up to functional bodyweight movements and endurance work
Optimising pelvic floor and core recovery
Breathing techniques to aid reconnection of core and pelvic floor
During the postpartum period, we provide structure to help you recover and rehab safely, keeping in mind your end goal, whether that is to return to the sport you love, to continue to do CrossFit, running or exercising in the gym or at home.  Once we are confident with body weight movement, we will progressively add more load, slowly incorporating more impact, power and dynamic focused movements (in all planes of motion), and further progress your strength. We want you to feel confident in your body's abilities and strength - strong enough to lift, hold, and play with your children.
Frequently Asked 
Questions
1
Do I need to have exercised before getting pregnant to work with Optimum?
Everyone is welcome. All workouts are tailored to meet you where you're at on your exercise journey. Staying active and moving during your pregnancy is recommended even if you were sedentary prior to getting pregnant. Although now is not the time to start some extreme sport or contact sport, we will slowly introduce functional movements and resistance training to assist you in a healthy, happy pregnancy.
2
Can I continue to lift weights and do the same gym classes now that I am pregnant?
If pre-pregnancy, you were an avid gym-goer who loved to stay active, push outside their comfort zone or physically challenged yourself in your chosen sport regularly, our focus now is to maintain your strength and fitness. Now is not a time for you to shoot for personal bests or to push boundaries, but a time to adjust and respect what your body is going through. Ask yourself, just because I can, should I? It is important to know when and how to modify your workouts as pregnancy advances. We want to reduce the risk of any complications or injuries. Here at Optimum, we are uniquely qualified to help tailor your workouts so that you have a safe, fit pregnancy.
3
When can I start to exercise again after I've had my baby?
You need to be cleared to exercise by your GP at your 6 week check (this may be longer if you had a C-section or there were complications). We also advise that you book yourself in with a women's health physiotherapist. Now if you get the green light from the doctor, this does not mean you will jump straight back to e.g. CrossFit, HIIT, running 5k, or olympic weightlifting (just examples). This is the "OK" to start to rehab your body and slowly introduce exercises back into your daily routine. At Optimum, our postpartum programming will help you bulletproof your body to return to the exercise and sport that you love.
We are based in Belfast, Northern Ireland area. In person sessions are currently at CrossFit Berserk (https://crossfitberserk.com/). Online option available upon request.
I have been using Optimum Coach for the last number of weeks. I started at around 16 weeks of pregnancy. The sessions are great and I feel stronger and with less pregnancy side effects from these PT sessions. Even when I feel sick Clare tailors the session and takes it as it comes whilst still getting a full body workout. Benefits of exercise in pregnancy are huge and I hope to continue.

I started PT sessions with Clare 4 months after my baby was born via c-section. Clare completed an initial consultation with me and really took time to understand any postpartum issues I was having and what I was trying to achieve. She tailored each session to my individual needs and provided workouts that I could do at home. I was unsure as to things I could do and things I should be working towards at my stage of recovery. Clare's knowledge and expertise really gave me the confidence I needed to get my body moving again and to start to rebuild my core. I have noticed a much easier recovery than my first c-section which has not only helped during exercise but also for day-to-day parenting, for things like lifting heavy car seats, helping to improve my posture after breastfeeding. She is so knowledgeable and really understands the recovery of postpartum bodies. She also understands the day to day strains on your body (carrying your baby, lifting) and incorporates exercises for this. She also had a really good balance of getting the most of out each session, but also not pushing so hard that it affects your ability to look after your child the next day! Clare has been supporting me while returning to the gym, looking at the workouts and suggesting alternative movements if needed. I cannot recommend Clare highly enough, she is really encouraging and makes exercising genuinely fun. I have no doubt that my recovery has been much speedier because of the advice and sessions with her.

I found out about Optimum through a friend who had seen the page on Instagram, being pregnant with my first baby I was keen to keep exercising but found advise online conflicting and confusing, and needed some guidance on what was safe!  From my initial phone call with Clare I knew that I was in safe hands, she took the time to listen to what I was hoping for in terms of training and was friendly, informative and helpful, without being too pushy!  From my first session I felt completely at ease and could tell Clare knew what she was talking about, her advice has been invaluable and taught me ways to train which are both effective, enjoyable and safe!  The sessions are relaxed and interesting and I've been able to train independently also using the exercises Clare has shown me also which has been great.  Highly recommend to any mums to be!